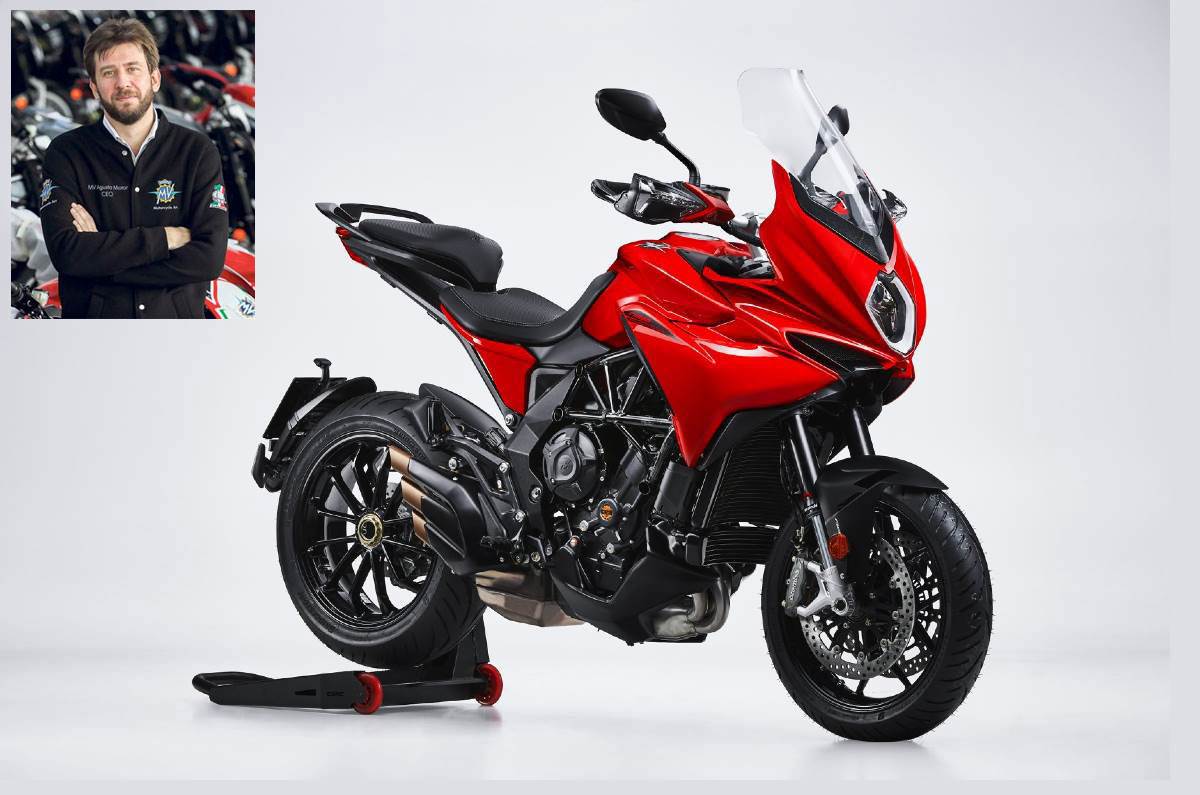 MV Agusta hoping to launch upto 12 new bikes by 2024
In a recent interview, MV Agusta CEO, Timur Sardarov, revealed the brand's plans to introduce as many as 12 new bikes by 2024, as well as 2 new engines. He also bashed rumours about a KTM acquisition, and acknowledged the possibility of a Cagiva revival.
The two new engines are expected to be a 550cc twin and a 950cc triple
An upcoming 950cc adventure bike could be called the Cagiva Elephant
The new engines seem to be at least two years away
MV Agusta is one of the most storied motorcycling brands in history, and the latest chapter in its story came in 2019, when it was taken over by the Russian Sardarov family. Now, the new CEO, Timur Sardarov, has grand plans for the company, which include as many as 12 new models and 2 new engines being launched by 2024. 
MV Agusta new 950cc adventure bike
At the moment, MV Agusta has been busy updating its existing range to Euro 5 emissions standards, introducing bikes like the 2021 Rush and Brutale 1000 RR. But it's simultaneously also working on two new engine platforms – a 550cc and a 950cc engine. We know that the 950cc motor will be an inline-triple that will debut on an upcoming adventure bike. 
MV Agusta's possible Cagiva resurrection
 The aforementioned adventure bike could carry a familiar name tag. MV Agusta owns the rights to the Cagiva brand, and Sardarov said that MV's marketing department is considering the possibility of launching products under the Cagiva banner. MV also trademarked the 'Elephant' name last year, which is a slightly tweaked version of Elefant – the legendary Cagiva adventure bike that won the Dakar rally in 1990 and 1994. Current market trends seem to indicate that MV would do well to resurrect these iconic names and cash in on their heritage, so this is definitely a distinct possibility.
While MV had hoped to unveil this new ADV by late-2022 and start selling it by 2023, it's possible that there could be a slight delay, because Sardarov mentioned that both new engine platforms will require 24 to 28 months from now to implement. Once here, both engines are expected to do duty in a range of models, in varying states of tune.
MV Agusta new 550cc engine
The second engine, the 550cc motor, is expected to arrive first and be a twin-cylinder unit. A couple of years ago, MV entered a partnership with Chinese manufacturer Loncin to develop and produce four new sub-500cc motorcycles. These were expected to occupy the 350cc – 500cc bracket. It's not yet clear whether this new 550cc engine is the result of a modified agreement with Loncin, or a new motor developed by MV itself. Whatever the origins of the engine are, it will certainly help MV stake a claim in the booming middleweight segment. Expect this motor to spawn a naked, a sport bike, and an ADV, among others.
Other noteworthy news from the interview includes the introduction of bicycles and urban mobility products, which Sardarov claims will be introduced in the next two months. MV's success or failure to meet this deadline should give us some idea of how accurate its other timelines are as well. Sardarov also took the opportunity to quash rumours about a possible KTM acquisition, claiming that MV Agusta has its own business plan and will remain alone for at least the next 5 years, until its business plan is implemented.
MV Agusta India plans
As far as India is concerned, MV Agusta severed ties with its local partner, MotoRoyale, last year. At the time, it expressed a desire to appoint a new partner in India, but there has been no further development on the matter since. But with grand plans for the future that include smaller-displacement models, and a BS6-compliant range that's rapidly growing, it's quite likely that we'll see the iconic Italian marque make an India comeback sometime in the more distant future.